---
ISO/IEC JTC 1
Information Technology


ISO/IEC JTC 1 N 4556

DATE: 1997.03.06

REPLACES

DOC TYPE:
Other document

TITLE:
Approved Timeline document (a re-issue of JTC 1 N 4475rev)

SOURCE:
JTC 1 Secretariat

PROJECT:

STATUS:
As per Recommendation 7 of the February 1997 Ad Hoc Group meeting on JTC 1 Strategy for Implementing IT, document 4475rev is being issued under a new number for information.

ACTION ID: FYI

DUE DATE:

DISTRIBUTION: P and L Members

MEDIUM: D

DISKETTE NO.: 116

NO. OF PAGES: 4


Secretariat, ISO/IEC JTC 1, American National Standards Institute, 11 West 42nd Street, New York, NY 10036; Telephone: 1 212 642 4932; Facsimile: 1 212 398 0023; Email: lrajchel@ansi.org


---
JTC 1 N 4475R
Ad hoc JTC 1 IT Implementation Timeline Considerations


1) An archival policy needs to be created
documents should remain online long enough to provide a service to the members
after a determined period (when there is minimal access), documents should be archived off on other media for long term storage
for long term archival, SGML is considered appropriate
2) It in currently impractical to promote only one format for all web documents
both HTML and PDF have reasonable implementations
not practical right now to coalesce on a single solution, target migration is towards SGML (concern for the long term viability of other packages)
need flexibility for startup and for long term
different formats are practical depending on the usage, such as: HTML for browsing, PDF for downloading, Word for revising
3) JTC 1 should be moving towards a hyperlinked document register
NBs want it in a format that can be downloaded into a local database
members want to go directly from the register to the document without regard for where the document "lives"
4) Electronic letter balloting should be facilitated
members should have the flexibility of balloting either via email or through the web
there should be a mechanism to determine who the voting respondent is and if that entity is valid
the solution should not overpower the problem; currently there appears to be only minimum threat
5) Documents should be freely available
ad hoc to address this further
6) Collaborative arrangements should be encouraged via the web
use of the web will encourage collaboration, SCs already at various levels of implementation
some concern re: bulletin boards
7) Both HTTP and FTP are valuable when downloading documents
HTTP is convenient in many cases, though sometimes, FTP is more reliable
some organizations still have firewalls which make it difficult to retrieve FTP documents
HTTP is sometimes advantageous because additional information is sent which causes the browser to open the helper
8) Collaborative computing should be investigated for online creation of standards
total agreement that it should happen, no discussion on how it should happen
9) The Secretariat which acts as the source of a document should be the single distribution point for that document
work towards eliminating work, not duplicating
need to do distribution economically and effectively within the rules we have to abide by
both the NB and the Secretariat have valuable roles to play
recommend a single site for document sourcing (maintained by the Secretariat) while the NBs keep their members informed (document registers, document availability, close of letter ballots, etc.) and disseminate the passwords - still NB's role to determine who is a member and to be the conduit of information for those members
there are advantages to distributed access
sometimes, the web connections between a country and the source server make for difficult access
investigate duplicate sites for performance problems
email distribution should be done at the SC level or at a point controlled by the Secretariat (appointees)
for liaison organizations, give passwords to an identified contact name. Will emulate the paper environment --- currently don't know the extent of distribution once it has gone to a liaison contact.
---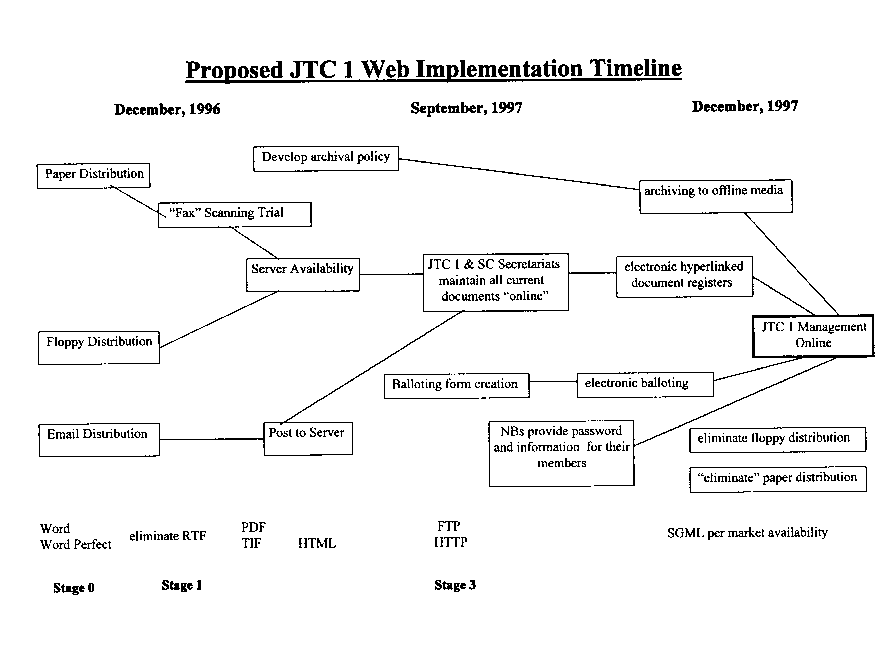 ---
Notes to Web Timeline

1) Every attempt should be made to minimize paper distribution. SCs are encouraged to trial "fax scanning" and other digitization methods to enable electronic distribution of all documents.

2) Some exceptions, on a document-by-document basis, will need to be recognized.

3) ISO/CS is creating an online ballot program for completion in the February timeframe which may be considered when solving the "online balloting" requirement. In any case, a single balloting mechanism should be created and then shared with all Secretariats.

4) It is anticipated that the period between September, 1997 and December, 1997 will be used to make certain a high quality, fully functional process is in place for members. During this time, online distribution and floppy distribution will overlap so members can migrate gracefully.

5) "Maintain all current documents" means that once a Secretariat has begun to post documents to the web, there is no requirement that they go back to post previously issued documents. It is therefore highly recommended that all Secretariats be fully functional by December, 1997 such that all 1998 documents are located at a single source and can be easily managed and archived.

6) SCs who are unable to meet the dates identified should consider finding a host (another SC or a sponsor) for their web site.

7) Any SC or NB that cannot meet the above recommendations shall petition for an extended commitment date. Such a petition must include reasonable dates for implementation and firm plans to achieve those dates.